Maserati is Back! Introducing the New MC20
Maserati has returned to racing!
Maserati's Long-Awaited Return to Racing
Maserati has returned to racing! The new Maserati is being unveiled in Italy, and you can't help but feel a little bit of nostalgia because, over the years, Italians have been known for their hand-built and custom sportscars and supercars. With Maserati's long absence from the racing scene, you may think Lamborghini or Ferrari when you think racing. However, now, the new Maserati MC20, which will be built by the Viale Ciro Menotti plant in Modena, is set to debut in May! It's a new era, well, a new era for Maserati, and the new MC20 super sports car is the first of its kind. A whole world of people are eagerly waiting to know the details of this hand-built hot rod piece of luxury, but the exact specs will remain in the smiles and gritted teeth of the drivers and test pilots for now.
It's Just What We've Been Waiting for
Aptly named, the MC20 means Maserati Corse and 20 is for the year 2020. According to Car Magazine, the new Maserati features an engine built in the middle, on a carbon tub, which you may recognize from the Alfa Romeo 4C, but with a longer, wider tub and longer wheelbase to provide for a roomier feel inside the car. The MC20 features a twin-turbo V6, initially developed by Maserati, and upgrades from a 3.0 to a 3.6-liter engine. Speculation has it that the likely electrified 8-speed dual-clutch automatic car will have room for 600-plus HP. Maserati stated they have in-the-works full hybrid and fully electric versions. And you won't lose anything with the hybrid version, because it's expected to be an all-wheel-drive with a combined output of 700 HP!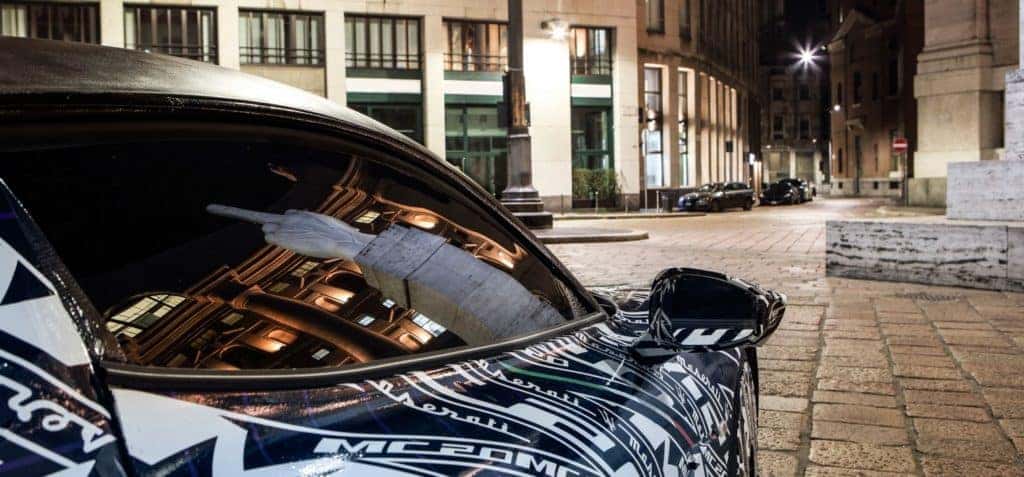 The MC20 prototype has been photographed at night in Piazza degli Affari in Milan, below Maurizio Cattelan's sculpture L.O.V.E., a symbol of Italian audacity in international contemporary art.
The Evolution of the MC
A little history, for those of you who remember the MC12, which debuted in 2004 to commemorate Maserati's return to racing after 37 years. The evolution of the racing superstar car is a long time coming.  If the MC12 predicts what Maserati has in store for us with the MC20, we're in for a wildly good time. A champion of champions, the MC12 won 22 races and was awarded over a dozen championship titles in FIA GT 2004-2010 in the Constructors', Drivers', and Teams' Championships.
Even a Few Plant Upgrades
If that wasn't exciting enough, the Viale Ciro Menotti plant has announced that a paint shop is in the works and will be environmentally friendly with low impact technologies. At the same time, the Modena Plant is already prepped to handle the advanced electric powertrain of the MC20.
Don't Blink or You'll Miss It!
The new MC20 prototype will be coming to selected cities in Italy. It won't be there long, however. If you are lucky enough to catch a glimpse of this beautiful machine, keep it within eyesight as long as possible. If the test drivers have an inkling of the race fuel that runs in my veins and theirs, then that car will be disappearing from 0 to 60 faster than you could blink! So, if you want to see this beautiful piece of machinery, inquire within at your local Maserati dealer, and find out just where this rolling piece of artwork can be found. And once you find it, don't blink or you'll miss it!