The First of Its Kind: Maserati of Fort Lauderdale Celebrates the Launch of Maserati MC20
Maserati of Fort Lauderdale hosted a day of events to celebrate the Maserati MC20 Launch
The event took place on October 12, 2020. The Maserati MC20 marks a new era for Maserati as it begins to develop its own Nettuno Engines and new supercars. Throughout the day, Maserati of North America was on-site to facilitate private viewings for the dealer's top Maserati clients. That evening, Maserati of Fort Lauderdale hosted a private reception complete with cocktails, cars, clients, and corporate executives in celebration of the MC20 launch.
About the new new MC20:
Maserati MC20 is the first super sports car of the Trident Brand. Discover its ingenious technologies for outstanding speed and acceleration performances. The "MC" in its name refers to Maserati Corse—a signal that the brand will soon re-enter racing events.
About the Nettuno Engine: Twin-Turbo V6 630 Horsepower:
The new engine is the beating heart of the MC20 super sportscar that will make its world premiere in September. The unit was designed at Maserati's Modena facilities: the Maserati Innovation Lab on Via Emilia Ovest, the workshops on Via Delle Nazioni (Maserati Corse's historic base) and developed at the Engine Hub, situated at the famous Viale Ciro Menotti address where it will be built. Currently the new production line and new paint shop are being modified to host the much-anticipated MC20. The new power unit has a V90° architecture, with a 3-litre, 6-cylinder twin-turbo, and features a dry sump (a classic solution on super sportscars). It delivers 630CV at 7500rpm and 730 Nm of torque from 3000rpm with a specific power output of 210CV/litre.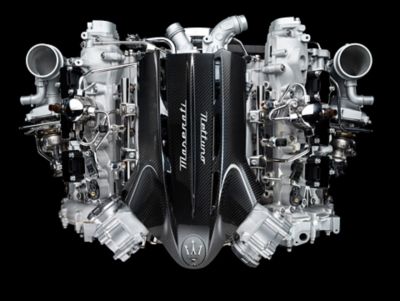 Check out the gallery to see the highlights from the special celebration:
---